Drawn Together: 
The Drawn Together art therapy program encourages the effective expression of grief through art. Participants do not have to be "artistically gifted" to create art or to benefit from it. Art activities are designed to enhance the expression of grief as well as create art that honors and cherishes their memories of loved ones. Individual art therapy sessions are available or the Art Forever After group described below. All art therapy programs are led by a professionally trained board certified art therapist.
The Art Forever After Group: 
This multi-generational art-based grief group provides the opportunity for individuals, friends and family members to make art with others.  Art Forever After meets at the Yeck Art Center and is offered in 3-month segments every Thursday evening 6:30-8:30 pm September through November and February through April.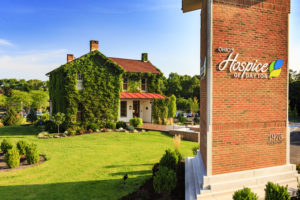 Yeck Art House
(at Ohio's Hospice of Dayton)
324 Wilmington Ave.
Dayton, Ohio 45420
Art Cart
A mobile cart that will bring art to you! 
Open to all ages! The Art Cart is a free service to all patients and family members who would like a creative distraction while visiting.  No artistic talent is required.  The Art Cart travels through the Hospice House Monday through Thursday at various times.