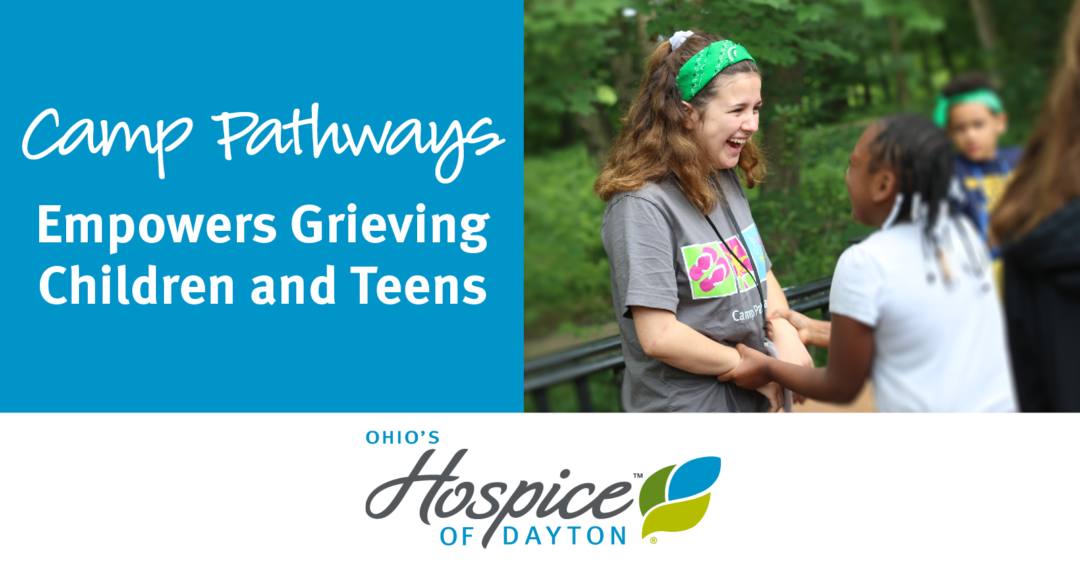 2020 Camp Pathways Offers Grieving Children and Teens a Weekend of Support and Fun
Pathways of Hope Grief Counseling Center at Ohio's Hospice of Dayton will host its 28th annual Camp Pathways beginning Friday, June 26, through Sunday, June 28, 2020, at Camp Joy Outdoor Education Center in Clarksville, Ohio.
The camp is designed for children and teens, ages 7-17, who have experienced the death of a parent, sibling or significant loved one. It is a unique experience designed to encourage them to express their feelings of grief in a safe and fun environment. Professional grief counselors and trained volunteers will lead the activities.
Children and teens who attend the camp will have an opportunity to be with others who also have experienced the death of a loved one. In addition to group support time with grief activities, the camp also offers children and teens lots of fun, age-appropriate outdoor activities, including swimming, a climbing wall, a ropes course, arts and crafts, and campfires. The camp will conclude with a memorial service that honors the memory of a child or teen's loved one.
The cost is $20 for one camper; $30 for two sibling campers; or $40 for three or more sibling campers. Financial aid is available. Transportation to the camp will be provided on Friday, June 26, at the Ohio's Hospice of Dayton campus (324 Wilmington Ave., Dayton, Ohio 45420).
Space is limited. To ensure your space, pre-register online at HospiceOfDayton.org/CampPathways2020 or call 937.258.4991.
An affiliate of Ohio's Hospice, Ohio's Hospice of Dayton is a not-for-profit hospice provider. Since 1978, it has served patients and families in the Dayton region in their homes, extended care and assisted living facilities, and the Hospice House location in Dayton. Grief support services are available to the entire community through the Pathways of Hope Grief Counseling Center. Ohio's Hospice of Dayton serves more than 1,000 patients and families daily, achieving national recognition for innovative services and outstanding care.